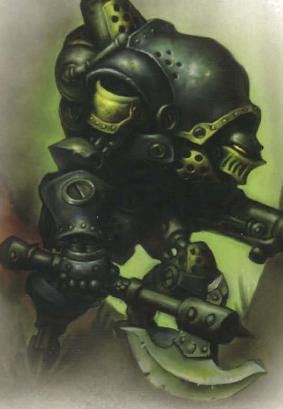 Some lessons can only be taught by one's enemies. Today they have taught us that no armor is truly invulnerable.
-Prince Vladimir Tzepesci
HEIGHT/WEIGHT: 8'5" / 2,75 TONS
ARMAMENT: LONG ARM CANNON (LEFT ARM), BATTLE AXE (RIGHT ARM)
FUEL LOAD/BURN USAGE: 400 LBS / 8.5 HRS GENERAL, 90 MINS COMBAT
INITIAL SERVICE DATE: 603 AR
CORTEX MANUFACTURER: CYGNARAN ARMORY
ORIG. CHASSIS DESIGN: CYGNARAN ARMORY
The Hunter was developed for one purpose and one purpose only: to seek out and destroy opposing warjacks, Swift and maneuverable, it is skilled at crippling enemy 'jacks before they even have the opportunity to engage Cygnaran forces, The agile machine is able to traverse most terrain with ease to gain the perfect vantage point from which to rain down death on the enemy
Ad blocker interference detected!
Wikia is a free-to-use site that makes money from advertising. We have a modified experience for viewers using ad blockers

Wikia is not accessible if you've made further modifications. Remove the custom ad blocker rule(s) and the page will load as expected.